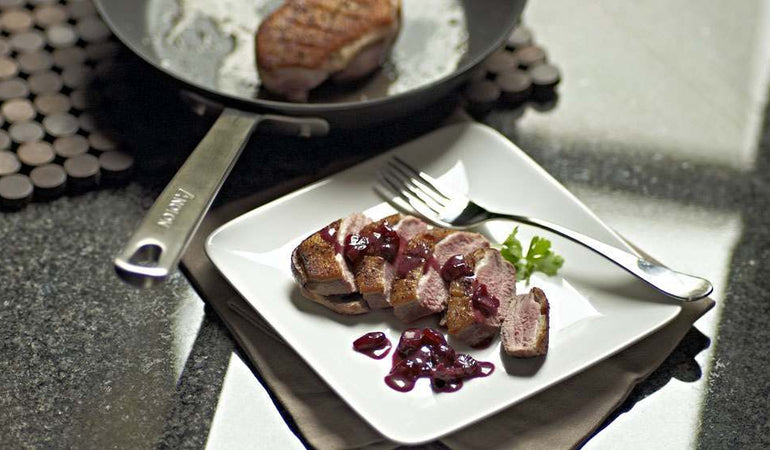 Seared Duck Breast with Cherry Cranberry Pinot Noir Sauce
14 November 2017
Duck breast eats like steak but has the calories and fat of lean poultry. The sauce brings out the rich meaty flavour of the duck while adding a tangy sweet element to the dish.
Level #2: sous chef

Recipes
Preperation Time
15 minutes
Ingredients
1⁄3 cup raspberry vinegar
1⁄4 cup dried tart cherries
1⁄4 cup dried cranberries
1⁄4 + 1⁄8 teaspoon black pepper
1⁄2 cup veal or duck demi-glace
2 tablespoons unsalted butter
Instructions
1Pre-heat the oven to 200°C/400°F/Gas Mark 6
2Combine the sugar and water in a small saucepan over a medium-high heat. Bring to a boil, stirring until the sugar dissolves
3Boil until the mixture turns golden, about 6 minutes. Remove from the heat and carefully add the vinegar, cherries, and cranberries swirling the pan until the caramel dissolves
4With a sharp knife, score the skin of each duck breast in a crosshatch pattern, taking care not to cut into the flesh. Season the duck with 1 ⁄2 teaspoon of the salt and 1 ⁄4 teaspoon of the pepper
5Heat a large non-stick skillet over a medium heat; add the duck breasts, skin side down, and cook until browned, 4-5 minutes
6Turn the breasts over and cook 1 minute longer; transfer to a non-stick baking sheet. Set the baking sheet in the centre of the oven and roast the duck until a thermometer inserted into the thickest part of the breast registers 55°C for medium rare. Remove from the oven, cover the pan loosely with foil and let it rest for 10 minutes
7While the duck is in the oven, pour off all but 2 tablespoons of fat from the skillet and heat over a medium heat. Add the shallots and garlic; cook, stirring occasionally, until softened, 2-3 minutes
8Add the Pinot Noir and increase heat to medium-high. Boil until the liquid is reduced by half, about 10 minutes. Add the demi-glace and return to a boil. Continue boiling until the liquid is reduced to 3 ⁄4 cup, about 6 minutes
9Pour the mixture through a fine sieve and set over the saucepan with the vinegar mixture, pressing hard on the solids with a spoon or spatula; discard solids. Stir in the cream and bring to a simmer over a medium heat; cook for 2 minutes
10Remove saucepan from the heat and stir in the butter until melted
11Stir in the remaining 1 ⁄4 teaspoon of salt and 1 ⁄8 teaspoon of pepper
12To serve, slice duck breasts thinly across the grain, fan over 4 plates and spoon warm sauce over.