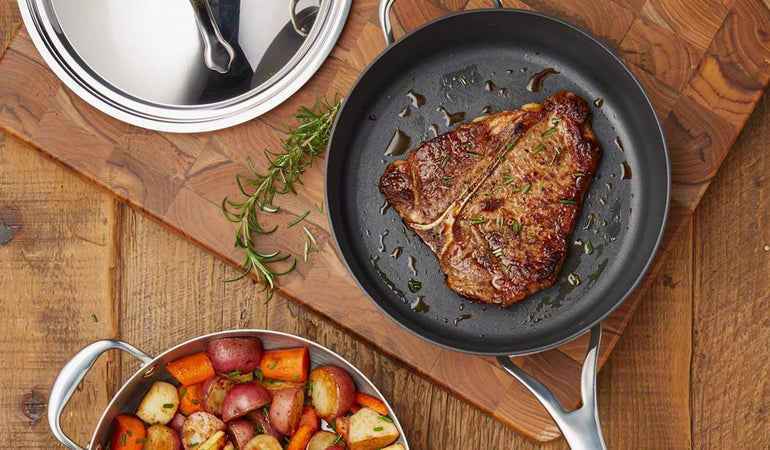 Pepper Rubbed Porterhouse Steak with Chive Butter
9 January 2018
Nothing enhances a really good steak like a flavoured butter. We love porterhouse steaks, because it's like getting two steaks in one: each person is served half the strip and half the fillet.
Level #1: commis chef

Recipes
Preperation Time
25 minutes
Ingredients
6 tablespoons unsalted butter softened
2 tablespoons minced fresh chives
11⁄4 teaspoons salt divided
2 (1-pound) porterhouse steaks about 1" thick
11⁄2 teaspoons ground black pepper
Instructions
1Combine 4 tablespoons of the butter, chives, and 1⁄4 teaspoon of salt in a small bowl. Transfer butter to a sheet of cling film
2Roll the butter into a 11⁄4" diameter log, wrapping tightly in the film. Chill in the freezer until firm, about 20 minutes. Cut into 1 ⁄2" thick rounds
3Rub the steaks with the pepper and sprinkle with the remaining 1 teaspoon of salt. Melt the remaining 2 tablespoons of butter in a large skillet over a medium-high heat until hot
4Add the steaks and cook, turning 3 times, until browned and medium-rare, about 6-7 minutes
5Transfer steaks to a serving platter and top with chive butter.