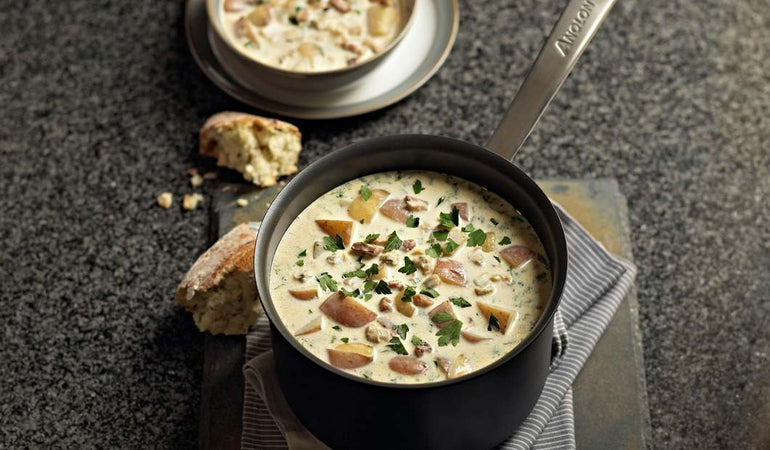 New England Clam Chowder
9 January 2018
Creamy, rich and chunky clam chowder made the good old fashioned way with fresh clams, potatoes, and a hint of bacon.
Level #2: sous chef

Masterclass

Recipes
Preperation Time
10 minutes
Ingredients
3 dozen cherrystone clams in their shells scrubbed
3 onions chopped into 1⁄2" pieces divided
2 sticks celery chopped into 1⁄2" pieces
2 carrots chopped into 1⁄2" pieces
6 slices bacon chopped into 1 ⁄2" pieces
1lb red potatoes cut into 1⁄4" cubes
2 tablespoons fresh parsley chopped
Instructions
1Combine the clams, 1 cup of the chopped onion, celery, carrots, thyme, bay leaves, clam juice and water in a large pot
2Cover the pot; bring to a boil over a high heat and cook until the clams open, about 10-12 minutes
3Remove clams from their shells and transfer to a bowl; cover and cool. Meanwhile, use a wire mesh sieve lined with cheesecloth or paper towel to strain the cooking liquid into a bowl and reserve
4Chop the cooled clams and reserve
5Wipe out the pot and return to the stove over medium heat
6Add the bacon and cook, stirring occasionally, until starting to crisp, about 10 minutes. Reduce heat to medium-low and add the remaining 2 cups of onion; cook, stirring occasionally, until onions are translucent, about 10 minutes
7Add the flour and cook for 2 minutes. Stir in the reserved broth and the potatoes, increase heat to medium, bring to a simmer, cover and cook until potatoes are cooked through, 8-9 minutes
8Stir in the reserved clams and cream, return to a simmer and cook uncovered until slightly thickened, about 5 minutes. Remove from the heat and stir in parsley.