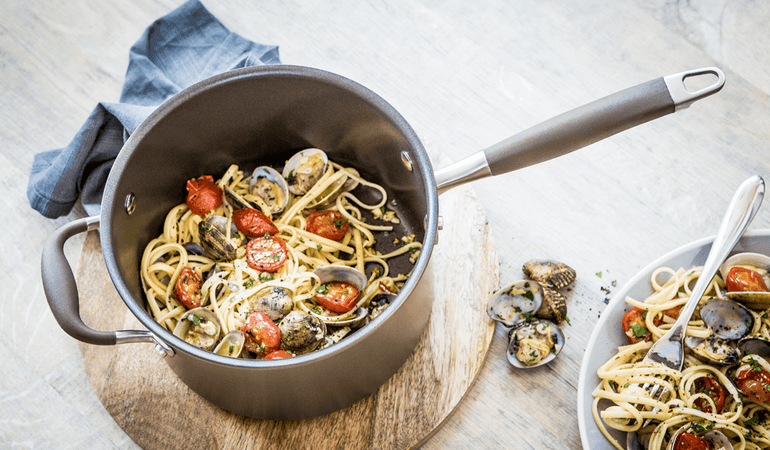 Linguine Alle Vongole
26 September 2017
A quick meal that also tastes delicious, this is a recipe that will definitely impress your family and friends.
Level #3: executive chef

Recipes
Preperation Time
15 minutes
Ingredients
2tbs extra virgin olive oil
2 large cloves garlic finely chopped
A pinch of dried chilli flakes or 1 small red chilli chopped
200g cherry tomatoes halved
large handful fresh flat-leaf parsley chopped
Instructions
1Bring a large pan of water to the boil and add a good pinch of salt
2Get everything ready to go - scrub the clams and discard any that are open. Chop the garlic and halve the tomatoes, chop the parsley and set aside
3Add the linguine to the boiling water and stir. Set the timer for 2 minutes less than the suggested cooking time
4Heat your large saucepan over medium-high heat and add 1 tbs of the oil, the garlic, chilli and tomatoes and cook for a minute stirring all the time
5Tip in the clams and the white wine and put on the lid. Cook for about 3 minutes, or until the clams have all opened up. Occasionally give the pan a good shake whilst holding on the lid to keep everything moving. Discard any clams that don't open
6The pasta should be ready - drain it and add to the saucepan along with the parsley and the rest of the oil. Stir to coat all the pasta then replace the lid for a minute to let the pasta absorb some of the juices Serve in warm bowls with a grind of pepper and lemon wedges on the side.