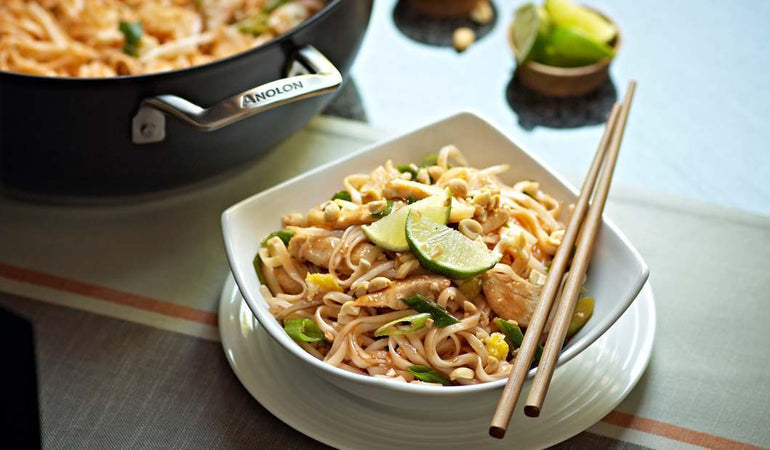 Chicken Pad Thai
9 January 2018
Make the universally beloved Thai dish at home in less than 20 minutes – without short cutting on flavour. In this version, we start with raw chicken, but you can add leftover cooked chicken (or any leftover cooked meat) at the end to make it even easier. Also delicious with prawns.
Level #1: commis chef

Masterclass

Recipes
Preperation Time
10 minutes
Ingredients
8oz pad Thai noodles (flat rice noodles)
3 tablespoons peanut oil divided
3 large eggs lightly beaten
12oz boneless skinless chicken breast halves cut into 11 ⁄2" long strips
11⁄2 cups green onions chopped
1⁄2 cup peanuts finely chopped
Instructions
1Cook the noodles according to the packaging directions; drain and set aside
2Combine the ketchup, fish sauce, and sugar in a small bowl
3Heat 1 tablespoon of the oil in a large non-stick skillet over a medium heat. Add the eggs and cook, stirring occasionally until set, about 2-3 minutes. Transfer to a bowl and reserve
4Return the skillet to the stove and heat 1 tablespoon of the oil; add the chicken and cook, stirring often, until lightly browned and cooked through, about 4-5 minutes, and transfer to the bowl with the eggs
5Return the skillet to the heat and add the remaining 1 tablespoon of oil. Stir in the garlic and cook for 45 seconds or until just star ting to brown. Stir in the noodles and reserved chicken and egg mixture and cook until hot, about 1-2 minutes. Add the ketchup mixture and cook, tossing for 1 minute. Stir in the green onions and remove from the heat
6Divide among 4 plates and garnish each with a 1⁄4 cup of beansprouts and sprinkle with peanuts. Serve with lime wedges, if desired.