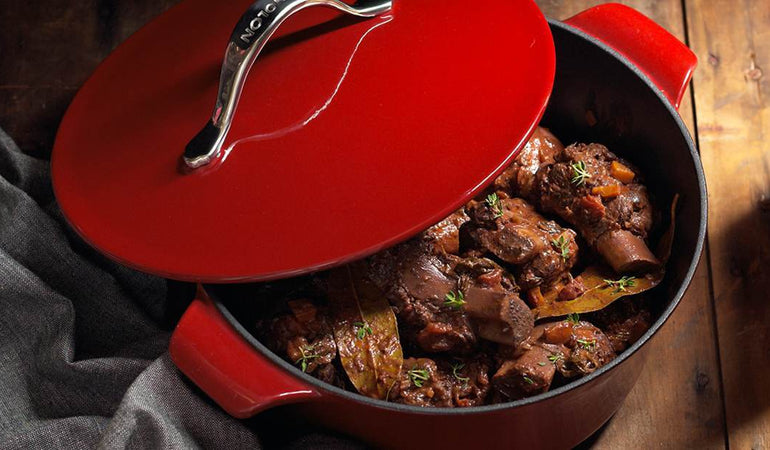 Braised Short Ribs with Chocolate and Rosemary
9 January 2018
Adding chocolate and rosemary gives this simple short rib recipe an elegant touch which provides a slightly sweet and smoky richness to the sauce without overpowering the savoury flavour. This dish is ideal to serve for a special occasion such as a family gathering.
Level #1: commis chef

Recipes
Preperation Time
10 minutes
Ingredients
2 tablespoons extra virgin olive oil
about 12 large meaty short ribs
Black pepper freshly ground
11⁄2 cups onion finely chopped
1 tablespoon garlic minced
1⁄4 cup shallots finely chopped
1⁄4 cup celery finely chopped
1⁄4 cup carrots finely chopped
2 cups red wine - Zinfandel or Chianti
2 cups canned tomatoes diced and drained
3 cups low-sodium chicken broth
2 tablespoons parsley chopped
3 tablespoons bittersweet chocolate shaved or grated
2 tablespoons Dutch-process unsweetened cocoa powder
1 teaspoon rosemary fresh and finely chopped
Instructions
1Heat olive oil in the oval casserole over a medium-high heat. Season the short ribs with salt and pepper, add them to the pan. Brown the meat on all sides, about 10 minutes
2Remove the meat and add the onions, garlic, shallots, celery and carrots. Cover the pot and decrease the heat to medium and cook the vegetables until they're soft, stirring occasionally, about 10 minutes
3Add the tomatoes, stock, bay leaf, thyme, and parsley. Return the meat to the pot, partially cover, and cook at a simmer for 1 hour
4Uncover and continue to simmer until the meat is tender, another 1 to 2 hours or more (taste a piece to be sure)
5Serve immediately.